With offerings for every goal, time-frame, and budget, Site Culture is here to set your business apart from the rest with a stunning website and rock-solid messaging strategy.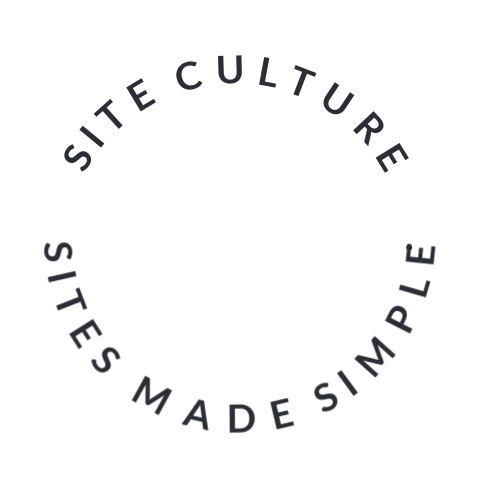 Let's face it. Your to-do list isn't getting any shorter.
As small business owners like you, we can totally relate. If getting started with one of our templates feels like a headache, we've got your back. When you hire us for fully custom services, you'll receive one of our template designs, beautifully and intentionally tailored to you.
A 1:1 experience where we craft your perfect branding, tailor one of our templates and refine your messaging strategy to fit your business perfectly.
one-day-website
customization
Perfect if you've found a site you love, but don't have the time to set it up yourself. Hand over your content to us and we'll handle the rest of the setup and customization for you, in just one-day!
custom website
design + copy
Need something as completely unique as your business? Then custom is for you. We'll work together to make your business come to life online.
We'll completely set up your website for you
Did you fall in love with one of our templates, but don't have the time to figure out how to set it up yourself? We'll send along the DIY copy-writing guide and website planning sheet for you to fill out, and we'll get your site setup and ready for you. No learning how to customize your website needed.
WE'LL SET UP + TAILOR A TEMPLATE TO FIT YOUR NEEDS​
Looking for a one-on-one experience where we will help with everything from branding to refining your messaging strategy? We'll have a zoom call to hone in on your website functionality and messaging strategy. 
This package includes one of our template designs, beautifully and strategically customized to fit your business perfectly.  Ideal for businesses in need of elevated website design , who have the desire to drive their copywriting.
03/ Custom Design + Messaging
Come away with a gorgeous and strategic brand, website, and messaging strategy for your one-of-a-kind small business. Best of all, we'll lead the way from start to finish. 
For starters, our expert team will learn the ins-and-outs of your vision, differentiators, and offerings. From there, we'll take the reins on messaging strategy, copywriting, custom design, and ongoing support and consultation. The works.
The result? A custom website, jam-packed with design and messaging elements that leave a lasting impact. All that, plus more time in your day to focus on the things that matter most.
done-for-you website services
we'll lead the way from start to finish
Book a FREE call with us to discuss which done-for-you website plan is best for you.
02 / content questionnaire
After signing up with us, you'll receive an email gathering all the content and branding we need to set up your website using our branding and writing guides
03 / Schedule your website
Once we have your content ready-to-go, we'll schedule your website work. You'll get VIP service from us while setting up your website and after go-live.
04 / We'll take it from here!
We'll get your new website all set up and customized for you. We'll go through website and copy revisions to ensure your site and messaging are just right. 
Finally, we will make sure your website is flawless and looking fabulous on all browsers and devices. All that's left to do is go-live and celebrate your stunning new site.
To help small businesses flourish through websites that bring together compelling design and great messaging strategies.

The beautiful and well-thought through templates and your support have made it possible for non-tech , non-design person like me to get my dream website done and live in two weeks!
Inès Y.
Content and Course Creator | Sites Made Simple Member
Elizabeth has the gift of being professional and personable at the same time. She is open-minded, patient, understanding and inquisitive, as well as very talented. The exact qualities I wanted in someone designing my website vision.
Jane E.
C.A.R.E. Financial Coaching | Custom Website Client
I'm excited to set the tone for my business and client experience right off the bat and hope that it attracts even more ideal clients, keeps them browsing longer, and ultimately lead them to inquiring with me."`
Abbey L.
Photographer
My favorite part of working with Site Culture is the quick response I receive from Elizabeth regarding every question I have had. It was so nice to actually be able to message a person who understands my site and my questions rather than a generic number or no number at all.
Kelly L.
Wellness Coach
Get started below. Still not quite sure which option is best for you? Inquire for a FREE 15 minute consultation or browse our site shop to find the perfect website for you.