Creating the perfect branding for your website and marketing materials can be a bit overwhelming to some. Quite honestly, it's hard to find the perfect colors,  fonts, and overall aesthetic for your brand and website.
In this blog post, I'm sharing the exact method I use for determining all things branding.
Step 1: Choose 5 words that describe your brand.
Did you catch our stories last week on Instagram? Rebecca chatted about finding your brand voice, and even talked about how you can determine your brand voice using voice descriptors.
Choose the five adjectives that you feel best reflect your brand—what we'll call your "Voice Descriptors." For each Voice Descriptor, outline what that descriptor means in the context of your brand. For example, if your business is a coffee shop and one of your Voice Descriptors is "inviting," map out the following:
Description: When customers enter our shop, we want them to feel like they are coming over to a friend's house.
Do this: Use warm, familiar, and approachable words, along with simple, concise sentence structures.
Avoid this: Avoid overly formal or professional words. Use imperative sentence structures very sparingly, as they may give the impression of being disingenuous or authoritative. 
Once you have your 5 adjectives in place, it's time to head on over to Pinterest to determine your brand's overall vibe, color scheme and aesthetic.
I always ask my clients to hop on over to Pinterest and start pinning any images where they love the colors and overall "vibe".  There's no need to worry about finding images that go together. Just go ahead and save everything you love. Some of my favorite things to pin are home decor pictures, fashion, or travel pins.
Once you have a board with 30-50 images, take a look through and look for patterns. Do you see any repeated colors? Are you attracted to high-contrast blacks and whites,? Or perhaps you will realize that you love more light and airy, playful, or dark and moody colors.
Once you find a common theme that you're drawn to, start removing images that don't fit. Screenshot or download the images, next we will now pop them into your Canva brand board.
Step 3: Create your Mood Board using our FREE Canva Brand Board + Training
Now that you have your curated images, it's time to upload them to Canva to create your brand mood board. 
Our mood board will help you curate the perfect color palette and typography for your brand. Using the right color palette and aesthetic, along with your brand voice will convey your brand's personality, helping your ideal client find you.
Grab it here: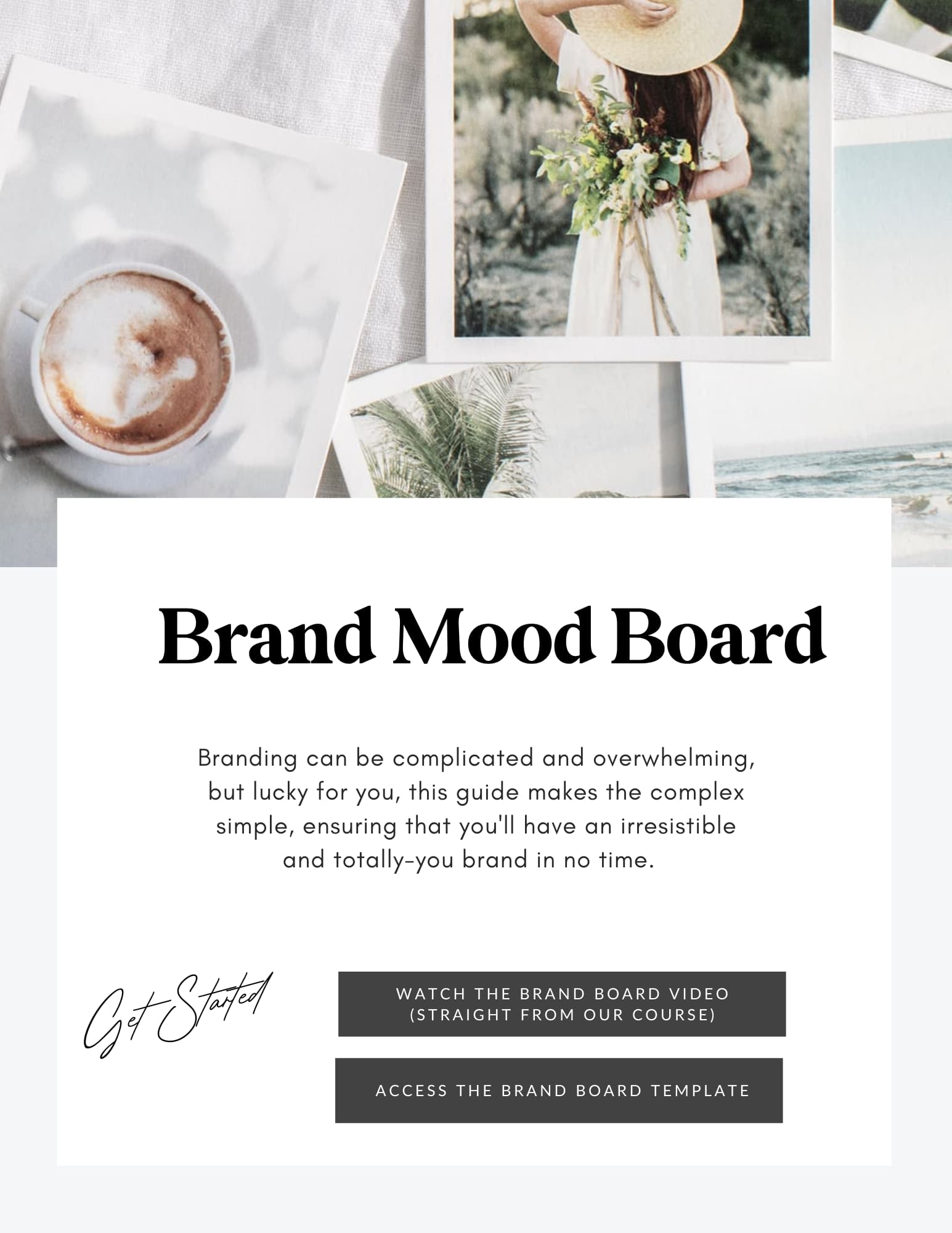 Grab our secrets for creating an irresistible brand color palette
Want to save time and find an irresistible color palette that's totally you?